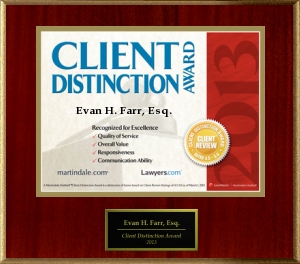 Fairfax, Va. – April 18, 2013 – Certified Elder Law Attorney Evan H. Farr has been awarded the Martindale-Hubbell® Client Distinction Award.  Selection for the award is based on Client Review Ratings in the categories of communications ability, responsiveness, quality of service, and value for money.  The results of reviews from Mr. Farr's clients were compiled and he earned a Client Review Rating Score of 4.8 on a scale of 1-5. Mr. Farr has also earned a 4.8/5.0 peer rating, or an AV®Preeminent rating, the highest an attorney can achieve.  View Mr. Farr's Martindale-Hubbell® profile.  Clients of Mr. Farr can submit a review on his profile page.
Martindale-Hubbell® has been facilitating Peer Review Ratings™ for more than 130 years. A few years ago they introduced Client Review Ratings. Client Review is a service featuring client feedback that complements their Peer Review Ratings program. Together these ratings programs provide prospective clients with a 360-degree view of an attorney's professional credentials. Martindale-Hubbell® reviews show that clients have confidence in an attorney's work, validate an attorney's credibility as a lawyer and highlight their skill set in their area of practice.
Read the complete press release on The Fairfax and Fredericksburg Elder Law Firms of Evan H. Farr, P.C. website. Call 703-691-1888 to make an appointment for a consultation.