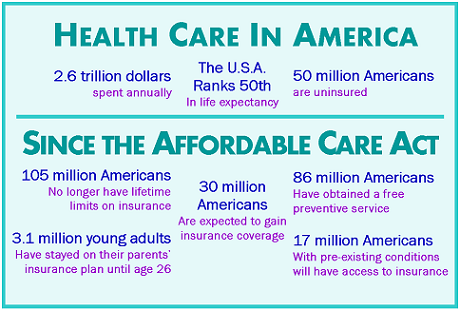 This week, March 3-9, is National Consumer Protection Week (NCPW), as proclaimed by President Obama in 2009.  Consumer education helps keep seniors and all Americans informed while providing them with resources to explain their rights and protections.  For seniors, NCPW is the perfect time to talk about some of the new rights and protections Americans have under the Affordable Care Act (ACA).  We also encourage you to read our blog post about preventing Medicare fraud.
Rights and protections for seniors under the ACA:
Senior consumers should know that due to the ACA, the Medicare Trust Fund is projected to remain solvent until 2029, a 12-year extension from previous estimates.

Before the ACA was signed, Medicare's future was dire and the Medicare Trust Fund was in danger of going bankrupt. In August 2010, the fund's outlook improved substantially due to the legislation's commitment to reduce waste, abuse and billing errors within the Medicare system.

Seniors can receive screenings for conditions like colorectal cancer and breast cancer without a co-pay or a deductible fee.

Under the ACA, new insurance plans will offer preventive care with no out-of-pocket costs. This benefit is also available to seniors on Medicare. Seniors should take advantage of the free preventative screenings to stay healthy and catch problems before they become serious.

Beginning Oct. 1, 2013, you'll be able to shop for health insurance and compare plans through the Health Insurance Marketplace in your state.

  Senior consumers will see up front what different plans are likely to cost them and have the opportunity to enroll in the plan that is right for them. Learn more here.

The ACA gives you greater control over the care you receive and the information you need to evaluate your options.

 The ACA requires insurers to provide you with an easy-to-understand summary of your health plan's benefits and coverage, including a glossary of insurance terms.

 The ACA prohibits insurance companies from denying you coverage because you are sick or have a pre-existing condition.

 New protections applicable to most plans beginning in 2014 will also prevent insurance companies from charging you more because of your gender or occupation. Read more.

Insurance companies can no longer put a lifetime dollar limit on most of the benefits you receive and starting in 2014, insurers will be prohibited from imposing annual dollar limits.

Insurance companies cannot raise your premium rates without accountability or transparency. The law requires insurance companies in every state to publicly provide easy-to-understand information to their customers about their reasons for significant rate increases, and any unreasonable rate increases are posted online. Since enacted, the number of requests for insurance premium increases of 10% or more has dropped dramatically, from 75% to 14%.

 Insurance companies need to meet the 80/20 rule, which requires them to generally spend 80 percent of premiums on health care (rather than CEO salaries and marketing) or provide rebates to their customers.

 Insurance companies that did not meet the 80/20 rule have provided nearly 13 million Americans with more than $1.1 billion in rebates. Americans receiving the rebate have benefited from an average rebate of $151 per household.
Many elements of the ACA protect consumers and make the health insurance market work better for seniors. Because of the ACA, more Americans than ever before will have access to quality health insurance they can afford. Read our Everything Elder Law blog post about the ACA.
We here at the Fairfax and Fredericksburg Elder Law Firms of Evan H. Farr, P.C. believe that senior consumers should have access to all of the information and consumer protections they need to make important decisions.  One of the most important decisions you can make it to plan for your future and for your family. Call 703-691-1888 to make an appointment for a consultation.