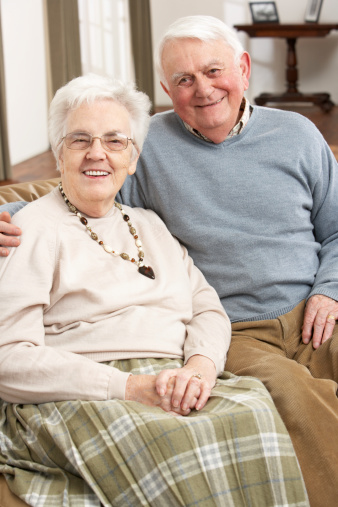 Q. My parents are in their 70's and I am a caregiver for them, while working part-time and raising a family. My father has had Parkinson's for fifteen years and is no longer mobile. My mother is in the early stages of Alzheimer's. As much as I love them dearly, it is becoming a real challenge for me to care for them while balancing everything else in my life.
Many of their friends are in assisted living, and a few reside in a nursing home. You would think that seeing loved ones needing long-term care would prompt them to think about their own future, but it doesn't. I try to bring it up, but mom says that she is just fine with the way things are.  They feel no urgency whatsoever, and I don't get it. I think that part of it is that she is in denial, and the other part is the hefty price tag of care facilities. Can you help me figure out a way to help them take long-term care planning more seriously?
A. Your stressful situation is unfortunate, but you are not alone. According to a recent 
survey
 from Genworth Financial, 47% of adults would give their boomer parents a "failing grade" due to not planning for, or talking about, their long-term care needs.
Another concurrent study, which is also conducted by Genworth but on an annual basis, entitled "
Cost of Care Survey
" provides a painful snapshot of the price of nursing homes, assisted living facilities, and home care. Below are some of the findings (based on national averages for 2015) and the 
costs for our area,
 which illustrate clearly why long-term care planning is imperative:
The median annual cost for a private nursing home room is  $91,250 a year, up a stunning 4.17% from a year ago. In the Metro DC area, a semi-private nursing home room runs on average $107,858 a year, up 6%, while a private room runs $124,374 a year, also up 6%*.
Annual care in an assisted living facility now runs $43,200 a year, on average, an increase of 2.86%.
Homemaker services run $20/hour, an increase of 2.63%. In Metro DC, homemaker services run $44,044 a year, up 4%.
Home health aide services also run $20/hour, a 1.27% increase. In Metro DC, home health aide services run $46,904 a year, up 1%.
Adult day care is $69/day, an increase of 5.94%. In Metro DC, adult day care runs $25,740 a year, up 5%.
*Note: The increases noted for the Metro DC area are over a 5-year period, while the national increases are based on data from 2014 and 2015.
According to the Genworth study, the increases at nursing homes and assisted living facilities are far higher than the inflation rate overall because of the constant inflation of facilities' fixed costs, including electric bills, building maintenance, food, physical therapists, equipment and more. For more details on the 2015 costs of long-term care, check out Report here [Add link] or use the 
Cost of Care app from iTunes
.
Who Pays for Long-Term Care?
Sadly, most people needing long-term care — and their families — wind up shouldering these costs alone, since Medicare does not pay one penny for long-term care bills and the private long-term care insurance market is getting pricier and shrinking. In fact, the cost of long-term care insurance policies rose 8.6%, on average, compared with a year ago, in the latest 
American Association for Long Term Care Insurance
 (AALTCI) Price Index. And, 
according to Forbes
, sales of new stand-alone long-term care insurance policies have plummeted by 75% from a decade ago, and 90% of the carriers that were selling long-term care insurance 10 years ago have withdrawn from the business.
Starting the Elder Law Conversation
All boomers, including your parents, should really have a bona fide strategy to manage a long-term care event. So, how can you get them to talk about and plan for long-term care when they refuse to do so? The good news is there's always a right way to initiate this kind of conversation with your parents. See below for tips:
Be open to what they have to say: Understand that your parents are used to being the ones leading and taking care of their children, not the other way around.
Open up the subject gently to them without being imposing. Factor in how they want to spend retirement and what are their preferences in terms of care services.
Consider involving a third-party in your discussion. This person can provide objective views, insights and suggestions based on your parent's situatio
Explain that Elder Law attorneys are not "regular" lawyers: Elder Law attorneys have deliberately selected a career in a specialized area of law to serve elders.  Moreover,  the client of an Elder Law attorney is almost always the elder,  not the children.  An inheritance is nice – and usually a much larger inheritance is a by-product of the plan devised by an excellent Elder Law attorney – but the inheritance is not the focus of ethical planning.  The client's quality of life and dignity should always remain the #1 priority.
Don't be afraid to research, communicate, and explain important statistics to your parents:  One point you can communicate is that 90% of senior citizens are uninsured and unprotected against long term care needs. Why is it important to plan for long term care?  Primarily because the expenses of long-term care are catastrophic and can wipe out a nest-egg in less than a year.  In fact, 50% of couples and 70% of singles become impoverished (broke) after one year of entering a nursing home!
Bring them to a seminar: An easy way to spend time with your a parent, while at the same time gathering important information, is to attend one of our free seminars.
Medicaid Planning in Virginia and other States.
Medicaid planning can be started while you are still able to make legal and financial decisions, or can be initiated by an adult child acting as agent under a properly-drafted Power of Attorney, even if you are already in a nursing home or receiving other long-term care.  In fact, the majority of our Life Care Planning and Medicaid Asset Protection clients come to us when nursing home care is already in place or is imminent.
Generally, the earlier someone plans for long-term care needs, the better.  But it is never too late to begin the process of  Long-term Care Planning, also called Lifecare Planning and Medicaid Asset Protection Planning.
Planning for long-term care will not eliminate your parent's risk of needing it, but it enables you to sort options and make smarter decisions ahead of time. As a result, you'll have the peace of mind that no matter what happens, you will know what to do as a family. If you or your parents have not done Long-Term Care Planning, Estate Planning, or Incapacity Planning (or had your Planning documents reviewed in the past several years), please call us as soon as possible to make an appointment for a consultation: