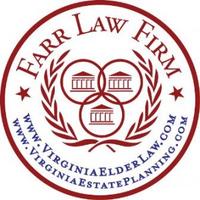 The Farr Law Firm, a busy, dynamic, and growing Elder Law firm in Fairfax City, seeks a Full-Time Legal Assistant to assist with helping our clients obtain Long-Term Care Medicaid and Veterans Benefits. Position entails significant personal contact with elderly and/or disabled clients and their family members. Medicaid training will be provided if necessary, but applicant must be a fast learner and be able to work both independently and as part of a team.
Duties will include:
–  Analyzing, understanding, categorizing, and sorting all types of financial documents;
– Scanning said documents and organizing them into electronic folders using established naming conventions;
– Entering extracted data into Excel spreadsheets;
– Maintainting frequent contact with clients to:
– obtain financial, personal, and health-related information from them as needed;
– inform them of all case developments and update them regularly on case status;
– explain asset protection strategies the firm is recommending;
– assist with implementation of desired asset protection strategies;
You must:
– have strong financial skills, analytical skills, and organizational skills;
– have strong phone experience and a very pleasant phone personality;
– be extremely personable and patient — a true "people person";
– be a detail-oriented quick learner, self-starter, and hard worker who enjoys working with and serving as part of a dedicated team of professionals;
– be a good and accurate typist, eager and excited to learn how to use new software programs;
– have highly-developed interpersonal skills; – have a true desire to work in a service-oriented environment where helping our clients is our number one priority;
– be a non-smoker, must not live with a smoker, and must not wear fragrances.
Qualifications:
All candidates will be considered, but the ideal applicant would have excellent academic credentials and at least 5 years of relevant experience. Primary software programs we use are Time Matters, Hot Docs, and WordPerfect. Experience with any or all of these programs would be a plus.
To Apply:
1. Please review our Web site — http://www.VirginiaElderLaw.com — to understand as much as possible about our firm, including a review of the items listed under About Our Firm.
2. Please take a short skills test by visiting the following link: https://es.eskill.com/es/quiz/?testId=4616d2ef9a84b7b5. Provide your name and email, then click "Take Test." If the link doesn't work, you can go to http://www.eskill.com and under "Here for a Test?" click Enter and provide the following ID: 4616d2ef9a84b7b5. The test is timed to take no longer than 60 minutes to complete; most applicants are able to complete it in approximately 50 minutes.
3. Once you've completed the test, please email your cover letter and resume to "jeannie at farrlawfirm.com," (of course replacing " at " with the "@" symbol). In your cover letter, please explain why this job interests you, and please confirm that you do not smoke, do not live with or frequently associate with smokers, and do not wear fragrances, either at work or elsewhere.
Compensation: based on experience