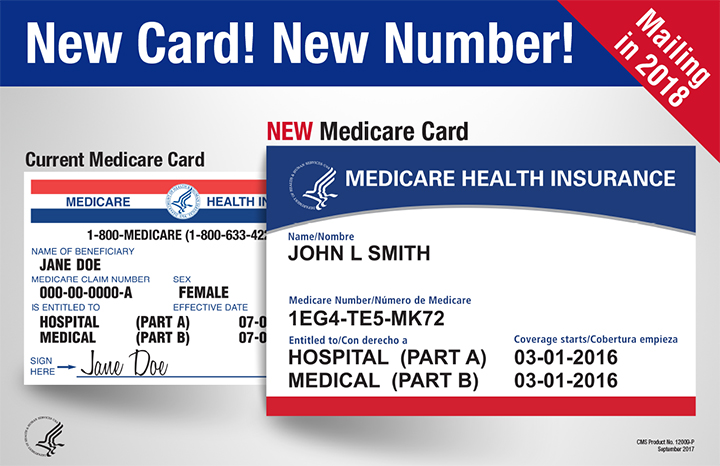 Q. I heard that Medicare recipients are supposed to be receiving new cards beginning this month. I have some questions about this that I hope you can help answer. Thanks in advance for your help. 
Q1. What changes will be reflected on the new cards?
A1. The Medicare Access and CHIP Reauthorization Act (MACRA) of 2015, requires Centers for Medicare & Medicaid Services (CMS) to remove Social Security Numbers (SSNs) from all Medicare cards by April 2019. Beginning this month, the Centers for Medicare and Medicaid Services will be sending new Medicare cards to beneficiaries that will no longer include your Social Security number. It will include your name, a new Medicare number called a Medicare Beneficiary Identifier (MBI), and the dates your Medicare Part A and Part B coverage started.
Q2. Why are the changes being made?
A2. "We're taking this step to protect our seniors from fraudulent use of Social Security numbers which can lead to identity theft and illegal use of Medicare benefits," said CMS Administrator Seema Verma.
Personal identity theft affects a large and growing number of seniors. People age 65 or older are increasingly the victims of this type of crime. Incidents among seniors increased to 2.6 million from 2.1 million between 2012 and 2014, according to the most current statistics from the Department of Justice. Identity theft can take not only an emotional toll on those who experience it, but also a financial one: two-thirds of all identity theft victims reported a direct financial loss. It can also disrupt lives, damage credit ratings, and result in inaccuracies in medical records and costly false claims.
In the past, if a wallet or purse were stolen, a thief could use the information on a Medicare card, along with an address or birthdate on a driver's license, to steal someone's identity.
Q3. Are there things I should know/prepare for before my new card arrives?
A3. The following are things you should know/do:
Make sure your address is up to date because Medicare will be sending your new card to the location associated with your Social Security account. To update your address information, contact Social Security at 1-800-772-1213 or go online.
Start using your new Medicare card once you receive it. If you happen to lose or misplace your card you can get a replacement, but you can also can access your new Medicare number on a Medicare Summary Notice or through Medicare.
The Railroad Retirement Board will issue new cards to Railroad Retirement beneficiaries.
Keep in mind that the MBI won't change Medicare benefits. People with Medicare may start using their new Medicare cards and MBIs as soon as they get them.
The effective date of the new cards, similar to the old cards, is the date each beneficiary was or is eligible for Medicare.
Once beneficiaries get their new Medicare cards with an MBI, they can use their new cards to enroll in a Medicare Advantage Plan or Medicare Part D prescription drug plan. Those Medicare beneficiaries who do choose to enroll in Medicare Advantage and/or drug plans will still also get an insurance card from their health and/or drug plans. As always, while beneficiaries are enrolled in Advantage and/or drug plans, they should use the cards from those plans when they get health care and/or prescriptions.
These are just a few quick tips to keep in mind as new Medicare cards are issued. You can find additional information on the release of Medicare's new card on Medicare.gov.
Q4. My sister in California got her new card already. Should I be concerned that I didn't receive mine?
A4. Cards are being sent to people covered by Medicare on a rolling basis over a 12-month period ending in April 2019. Older adults in Alaska, California, Delaware, the District of Columbia, Hawaii, Oregon, Pennsylvania, Virginia and West Virginia will be the first to receive the mailings, between April and June, along with several U.S. territories — American Samoa, Guam and the Northern Mariana Islands.
The last wave of states will be Kentucky, Louisiana, Michigan, Mississippi, Missouri, Ohio and Tennessee, along with Puerto Rico and the Virgin Islands.
Q5. What should I do with my old card when I get my new one?
A5. When you get your new Medicare card, don't throw your old one in the trash. Instead, put it through a shredder or spend time cutting it up with a pair of scissors to make sure the part showing your Social Security number is completely destroyed. Those numbers remain sought-after by scammers and identity thieves.
Q6. What if I forget my new card at home and they can't look my Medicare information up by Social Security number anymore?
A6. If you forget your new card at home, your doctor's staff should still be able to look up your new Medicare number up at a secure computer site. Or, they can use information that's already on file during the transition period.
Q7. What are some Medicare-related scams I should be aware of? 
A7. For years, phone scammers have preyed on older adults by requesting their Medicare numbers, giving various reasons for doing so. People who fall for these ruses have found bank accounts emptied, Social Security payments diverted, and bills in their mailboxes for medical services and equipment never ordered and never received.
In one scam, a caller purporting to represent Medicare or another government agency claims to need your bank account information, so Medicare can arrange a direct deposit of funds into your account. The new Medicare cards are used as an excuse for the call.
In another, scammers are threatening to cancel seniors' health insurance if they don't give out their current Medicare card numbers. If this happens to you, don't ever give someone this number — just hang up!
The new cards address these concerns by removing each member's Social Security number and replacing it with a new, randomly generated 11-digit "MBI" (it's called a Medicare Beneficiary "Identifier" and not a Medicare "number" because some capital letters are now included). This will be used to verify eligibility for services and for billing purposes going forward.
If you think Social Security might not have your current address, call 1-800-772-1213 or check your online Social Security account at https://www.ssa.gov/myaccount/, the FTC advised. To learn more about other fraud targeting seniors (including tax-related fraud), please read our most recent article, Internet Scams Targeting the Elderly.
Planning to Protect Loved Ones
We are glad that CMS is sending out updated cards in an effort to protect seniors from fraud and unscrupulous scammers. Protecting seniors from scams is very important, which is why we continually share information about current scams and how you can protect yourself. It is also very important to plan for your future and for your loved ones. If you have not done Incapacity Planning, Estate Planning, or Long-Term Care Planning, or if you have a loved one who is nearing the need for long-term care or already receiving long-term care, please contact us to make an appointment for a no-cost introductory consultation.
Fairfax Elder Law: 703-691-1888
Fredericksburg Elder Law: 540-479-1435
Rockville Elder Law: 301-519-8041
DC Elder Law: 202-587-2797