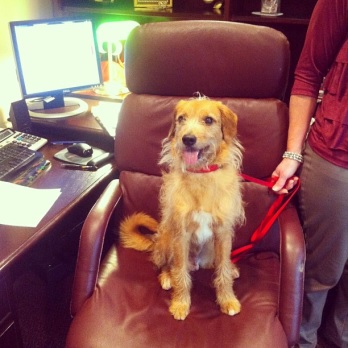 Dear Baxter,
My mother was taking pictures at my daughter's birthday party, and felt shaky holding the camera. This has happened in other instances, also. Recently, she's complained that her muscles are stiff, and her balance has been off. Do you know of any apps that can help identify whether or not she should be concerned about Parkinson's?
Thanks!
Park N. Cynns
—
Dear Park,
Parkinson's disease (PD) is difficult to diagnose, because there are currently no blood or laboratory tests available to detect it. As such, the diagnosis is often based on medical history and a neurological examination, and doctors may sometimes perform brain scans or lab tests to rule out other diseases.
More and more, apps are being developed for smartphones that can be used as a medical diagnostic tool for treating or diagnosing various conditions, including Parkinson's. When it comes to apps, it just so happens that I saw something about this on the news the other night, and the girl who invented it resides right here in Northern Virginia.
Pooja Chandrashekar, 17, a student at Thomas Jefferson High School for Science and Technology in Fairfax County, was recently accepted to all eight Ivy League colleges. As a summer intern at the Mitre Corp., she impressed older colleagues by working on a diagnostic tool for determining early signs of Parkinson's and traumatic brain injuries. The mobile app analyses speech patterns and predicts with 96% accuracy if a person has Parkinson's disease. According to Michael Fine, lead engineer in the Mitre neurotechnology group, "Her work may eventually allow us to optimize the diagnostic test, which should further improve the accuracy of the results when it is administered to patients."
Another Parkinson's app that helps diagnose the disease is called "
Pocket Doctor."
 It was recently presented at the British Science Festival in Birmingham, UK, by Dr. Max Little of Aston University. His app also detects voice pattern differences between people with and without the condition, and in a small study, he and his team found that accuracy of detecting the disease was nearly 99%. Currently, a team of scientists is rendering the technology, and are testing the app in a group of 2,500 individuals at the University of Oxford.We will keep our eyes open for these and similar apps. In the mean time, please see this 
list of helpful Parkinson's Apps.
Symptoms of Parkinson's include shaking or tremor, slowness of movement, stiffness or rigidity of muscles, and trouble with balance and possible falls. If your mother has two or more of these main symptoms, the 
National Parkinson's Foundation
 recommends she see a doctor.