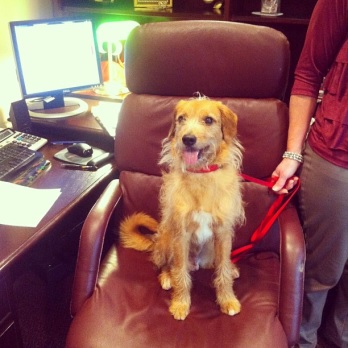 Dear Baxter,
Being a caregiver for my father with Alzheimer's is both rewarding and stressful. I want to take care of myself, but I don't know where to go for help, nor do I have the money to spend. What are some inexpensive ways to relieve caregiver stress?
Thanks!
Ali Veates-Tress
—-
Caring for a loved one can indeed be stressful, especially if you aren't taking advantage of all the helpful resources that are out there. One study found that as many as one in three caregivers rate their stress level as high, and half say they have less time to spend with family and friends. 
Below are some ideas and resources for alleviating caregiver stress:
-Caregiver retreats
:
Caregiver retreats
 provide another outlet, and can be found through the Family Caregiver Alliance and other caregiving organizations. 
-Respite weekends: 
Well Spouse Association
, a spousal support organization, offers respite weekends to its members, who pay a $30 annual membership fee. 
–
Outings with loved ones: 
If you are looking for something to do with your father, local chapters of the Alzheimer's Association offer free social outings that Alzheimer's patients and caregivers attend together.  
Alzheimer's Association events
 in the past have included private guided museum tours, tickets to a musical production, and clay pottery-wheel classes.
–
Paid Respite (Federal):
 The 
National Family Caregiver Support Program
 provides federal funds to state Area Agencies on Aging to help caregivers better manage their responsibilities to keep their loved ones at home, including paid respite. To qualify, caregivers must be 18 or older, must be unpaid by the patient, and must be caring for a loved one age 60 or older, or of any age if they have Alzheimer's disease or related disorders. Respite care ranges from several hours in an adult day care center or in the patient's own home, to several days in a respite-approved facility. 
–
State Lifespan Respite Care Programs,
 available in 32 states and the District of Columbia, provide "
coordinated, community-based respite
 for family caregivers caring for individuals with special needs of all ages." 
–
Respite for Veterans: 
In addition, through the VA, veterans are eligible to receive up to 30 days of 
respite care
 annually while the family caregiver takes a break. 
–
Hospice
patients receive up to 5 days of respite care paid for by Medicare at an approved facility. Medicaid patients also qualify for paid respite, usually through an adult day care program.
–
T
raining classes:
 Caregivers can access free training classes through a local Area Agency on Aging, including the 6-week program known as "
Powerful Tools for Caregivers
." This program teaches caregivers how best to take care of themselves. Local chapters of the Alzheimer's Association also offer free caregiver training classes, such as the 
Savvy Caregive
r
 Program, a 12-hour class conducted over 7-weeks designed for family caregivers of individuals with Alzheimer's or related dementia.
–
Technology to help with caregiver scheduling
: 
"Let us know what we can do to help" is a common sentiment expressed by friends and family, but it's often turned down by caregivers who don't want to burden other people. So they end up isolating themselves when they should be saying 'yes.' Websites, such as 
Lotsahelpinghands.com
 and apps, such as 
CareZone
 and 
Unfrazzle
, can provide help with caregiving scheduling.
Hope these resources are helpful for you!