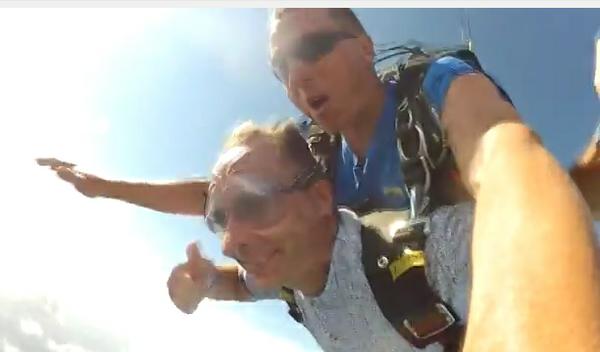 Michael Ellenbogen skydiving (from YouTube)
After more than a decade of having symptoms, Michael Ellenbogen was diagnosed with early-onset Alzheimer's at 49. He is one of an estimated 1.4 million people worldwide who have been diagnosed before 65.
After receiving the diagnosis, he decided not to let it get him down. Instead, he felt empowered to check everything off his bucket list, including parachuting from an airplane at 12,500 feet, something he said he would have NEVER done otherwise.
We can all learn from Ellenbogen, whose philosophy is "(J)ust because a person has been diagnosed with an illness, doesn't mean they should stop being active or avoid contact with other people. On the contrary, the best way to fight back is by maintaining a purpose — by staying active and social." He asks others in similar situations to "not put limitations on yourself." He believes that there are people out there who will help you do things you don't think you can do.
In another example, Kris B. was diagnosed with early-onset Alzheimer's when she was 46 years old. Her bucket list included taking a trip to Australia, having all of her friends at her home at once for coffee, making a difference for someone, and meeting Maria Shriver. She accomplished three items, so far, and is working on the 4th. At 59, she works as an Alzheimer's advocate and speaks on a local and national level about dealing with Alzheimer's, while living it. She sincerely hopes her perspective will help others.
Early-onset Alzheimer's
Roughly 12 million people worldwide have Alzheimer's or related dementia. It is considered "early-onset" when the disease is diagnosed in those younger than age 65, and it strikes 250,000 Americans a year according to the Alzheimer's Association. Typically, those diagnosed with early-onset Alzheimer's are in their 50s, but can be as young as in their 30s and 40s.
A common hurdle is often a proper diagnosis, a process of elimination that can take years. In fact, the Alzheimer's diagnosis is not always disclosed to patients. The Alzheimer's Association's 2015 Alzheimer's Disease Facts and Figures report, released last month, found that only 45% of people with Alzheimer's disease had been told of their diagnosis in the early stages. That means that 55% of those surveyed were not informed until the disease was more advanced. Please read our blog post, "Alzheimer's Diagnosis is Rarely Disclosed to Patients" for more details and coping strategies.
If you think you have symptoms of Alzheimer's and want to know with certainty, be sure to get several opinions from trusted medical professionals.
Creating a Bucket List in the Early Stages of Alzheimer's
Alzheimer's can progress at different rates, with many early-onset patients remaining engaged and enthusiastic for years after the diagnosis, experts say. Before experiencing symptoms, many patients with early-onset dementia had expected to continue working well into their 60s or beyond.
Bucket lists are things to do before you "kick the bucket," or in the case of those with Alzheimer's or dementia, while you still have your wits about you. Things on bucket lists are often those we put off, have felt too scared to do, or never had the time to fulfill.  Here are a few basic rules that may help you compile yours, should you choose to do so:
Achievable activities: A bucket list has to be a realistic list of achievable activities. Physical attributes and disabilities have to be considered, as does the level of memory impairment.
The earlier, the better: The list must be compiled by the person with Alzheimer's. Otherwise, it defeats the purpose. In addition, the earlier the list is compiled, the better.
Be flexible: As life progresses, you do change your mind about things. Also as a disease such as Alzheimer's progresses, your desires may change and may become more sedate. Rather than parachute jumping out of a plane, you may prefer meeting your niece in the next state or visiting your childhood home.
Make sure it's legal: Your bucket list should be legal! A recently reported suspect in a bank robbery in Utah was dubbed the "Bucket List Bandit". In a note demanding money, the suspect had written "I have four months to live." The FBI said he had told them he has cancer.
Consider who will be involved: You have to consider who will help you carry out your bucket list in the future, and ask them if they are willing to participate.
Simple is better: Bucket lists do not have to be complex or have a pre-set number of items. It's all about what is important at the time, practical, and affordable.
You can amend it or add to it later: Like all lists, there is nothing stopping things being added, amended, or removed.
Alzheimer's Planning
A diagnosis of Alzheimer's or other types of dementia is life-changing for both diagnosed individuals and those close to them.  Generally, the earlier someone with dementia plans for long-term care needs, the better.  But it is never too late to begin the process of Long-term Care Planning, also called Lifecare Planning and Medicaid Asset Protection Planning.
Understanding Living Trust Plus™ (LTP) Medicaid Asset Protection Trust:
For those with early-onset Alzheimer's, the Living Trust Plus™ (LTP) is often the most appropriate legal / financial strategy to plan for long-term care in the future. An LTP functions much like a Revocable Living Trust and maintains much of the flexibility of a Revocable Living Trust, but protects one's assets from the expenses and complexities of probate PLUS nursing home expenses while the creator of the trust is alive. Obtaining this type of protection from the devastating costs of nursing home care is extremely important for the 99.8% of Americans who are NOT among the ultra-wealthy who can afford to pay for their own care indefinitely.
If you would like more information about Living Trust Plus™, please register for one of our upcoming informational seminars. Our seminars teach attendees how to protect their assets from the expenses of probate and long-term care, how to obtain valuable Medicaid and Veterans benefits to pay for long-term care, how to protect assets from lawsuits, divorce, and long-term care creditors, and more. Reserve your spot today.
Medicaid Asset Protection
People with Alzheimer's live on average four to eight years after they're diagnosed, but some may live 20+ years beyond their initial diagnosis (especially those with early-onset Alzheimer's). Do you have a loved one who is suffering from Alzheimer's or any other type of dementia? Persons with dementia and their families face special legal and financial needs. At Farr Law Firm, P.C., we are dedicated to easing the financial and emotional burden on those suffering from dementia and their loved ones.  We help protect a family's hard-earned assets so those assets can be used to enhance your loved one's comfort, dignity, and quality of life while obtaining eligibility for two critical government benefits — Medicaid and Veterans Aid and Attendance. Please call us whenever you are ready to make an appointment for a no-cost initial consultation:
Fairfax Elder Law: 703-691-1888
Fredericksburg Elder Law: 540-479-1435
Rockville Elder Law: 301-519-8041
DC Elder Law: 202-587-2797